6. JSpamFilter 0.1.3 released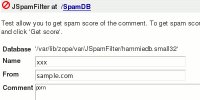 JSpamFilter 0.1.3 was released on July 2nd 2008. JSpamFilter is a zope2 product to get a probability of spam, such as blog's comment. To install, the product requires spambayes-1.0.4. JSpamFilter provides wrapper methods of spambayes with unicode tokenaizer for japanese language.
You can download the JSpamFilter source.
continue...