2. Python Shogi Program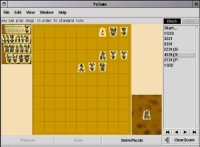 PyZume 0.1.0 has been released.
PyZume is a shogi program writen in python language and with tkinter. It aim to solve tsume-shogi experimentally, so it's not yet available ;-p)
After you have downloaded pyzume-0.1.0.tgz, unpack it and change directory to PyZume-0.1.0.

$ tar xvzf pyzume-0.1.0.tgz
$ cd PyZume-0.1.0

To run, script pyzume is available, which is included in tar ball.

$ ./pyzume

Once you have executed pyzume, your special directory ~/.pyzume-0.1 must be created automatially in your home.
If you wish to uninstall them, you have to remove pyzume sources and the special directory.

$ rm -rf .../PyZume-0.1.0
$ rm -rf ~/.pyzume-0.1