6. JSpamFilter 0.1.3 released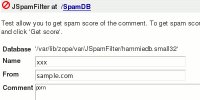 JSpamFilter 0.1.3 was released on July 2nd 2008. JSpamFilter is a zope2 product to get a probability of spam, such as blog's comment. To install, the product requires spambayes-1.0.4. JSpamFilter provides wrapper methods of spambayes with unicode tokenaizer for japanese language.
You can download the JSpamFilter source.
To use JSpamFilter methods
To use JSpamFilter instance.

context.SpamDB.trainAsSpam(Comment, Name, Addr)
context.SpamDB.trainAsGood(Comment, Name, Addr)

To get probability.

context.SpamDB.prob(Comment, Name, Addr)

The minimum return value is 0.0, and the maximum is 1.0. The value 0.0 is good and 1.0 must be spam.